Wasabi is on a mission to store the entire world's data by making data storage simple, affordable, fast and secure. If you have data to store, whether it's backups, x-rays, surveillance videos, financial data, media and entertainment, or scientific data, Wasabi's pledge is to always be the cheapest, fastest, most secure and reliable cloud storage in the world. It's all we do, and we do it better than anyone.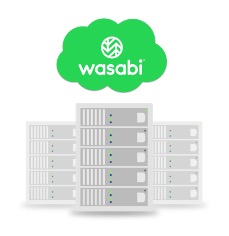 Why is Wasabi the World's Hottest Cloud Storage?
Protects Against Ransomware
80% Less than Amazon S3
No Fees for Egress
Introducing
Veeam® Backup & Replication v12
Wasabi combined with Veeam Backup & Replication v12 offers unparalleled enterprise value and resilient, affordable data protection. Now with direct to object backups, Veeam and Wasabi users can maximize the capacity of their high-performance on-prem systems while also leveraging cloud object storage as a primary target for their backups. This capability has also been extended to NAS backup as well as endpoint (laptops, desktops) backup. This new approach provides IT operations teams with simpler way to scale their data protection operations and employ the advantages of immutability to ensure their data is secure from any threats.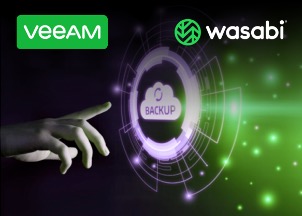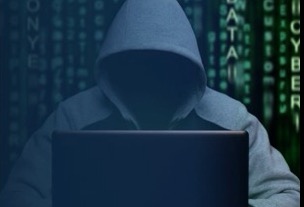 Ransomware Prevention
When ransomware strikes, it's not your data that's at risk, but your whole business. A robust data protection strategy with immutability and offsite backups can be the difference between business as usual and all operations grinding to a halt. The processes that protect your data from ransomware are simple to implement and inexpensive compared to the potential cost of ransom payment (not to mention days to weeks of lost productivity)
Wasabi Surveillance Cloud
Instantly extend the capacity of your on-premises video surveillance management system (VMS) with this simple, first-of-its-kind, hybrid cloud storage solution from Wasabi. No more expensive upgrades. Nothing new to learn or change. Just unlimited, secure, and affordable storage.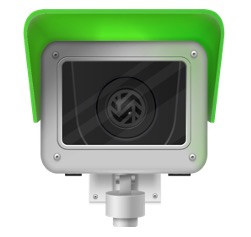 Multiple Spectra Logic data management platforms are validated for use with Wasab
Wasabi has partnered with Spectra Logic to help businesses reduce storage cost and complexity with incredibly affordable and fast cloud object storage combined with a converged storage system for greater resiliency and efficiency.
All Your Storage Under One Roof
Data is everywhere: on local NAS/SAN devices, in the cloud, and on tape, between different formats and locations. It's imperative that your team has insight into your data no matter where it sits.
Spectra BlackPearl & Spectra StorCycle let you merge on-site and cloud-based resources to create an agile, hybrid storage pool. Combine with Wasabi's low-cost, high-performance cloud storage for even greater scalability and savings.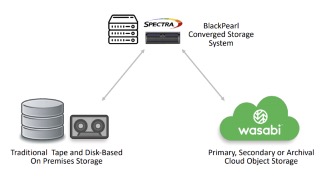 Unlimited Data, Always Available! That's Data Powered by Wasab
When your data is powered by Wasabi, it empowers your business!
Wasabi is at the core of your enterprise-ready business cloud. For many companies, migrating their data to the cloud is a necessity, but with Wasabi it's also an opportunity. An opportunity to choose a bottomless cloud of storage that's 1/5 the cost of AWS S3 and faster than the competition.
 Whether you need a second copy in the cloud, off-site disaster recovery, an active and accessible data archive, or long term storage, Wasabi's breakthrough price-performance makes the choice simple.
Wasabi hot cloud storage for all your data needs
One price. Lightning fast speed. No hidden fees.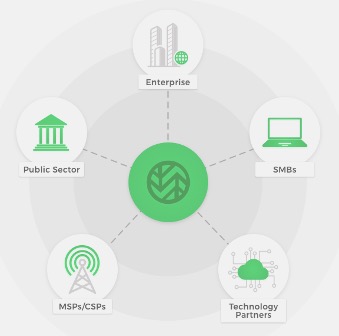 To learn more about how we can help you, please contact us