Intelligent Data Management
StrongBox Data is the leader in intelligent data management and archiving, servicing the world's most demanding data environments since 2008. The largest enterprises across 17 industries have chosen StrongBox Data to reduce costs as well as to protect and simplify data management.
StrongLink
StrongLink is a software solution designed to provide unprecedented level of automation and control in multi-vendor, multi-platform storage environments.
By bridging heterogeneous storage silos in a multi-protocol global namespace, StrongLink is the ultimate software solution to give you control of your data in multi-vendor storage environments, leveraging advanced metadata-driven technologies to enable intelligent data management across local, network, tape, and cloud storage. StrongLink is designed to make it easy to globally manage all files across otherwise incompatible multi-vendor storage silos.
StrongLink's metadata-driven Autonomous Engines give organizations global visibility, search, and control of their files across all storage resources. StrongLink Data Insights deliver visibility with real-time analytics and reporting.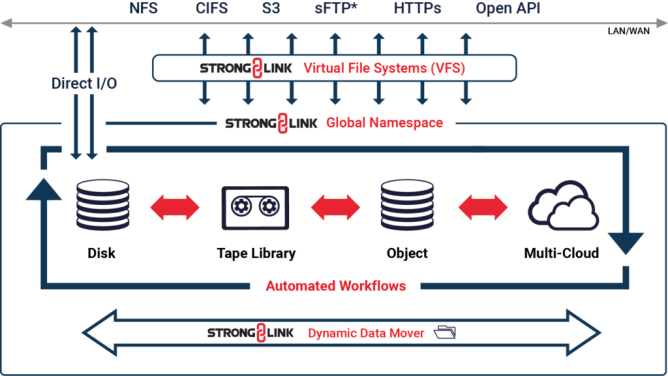 StrongLink blows away the concept of traditional HSM. Files are dynamically managed and migrated across any storage type without relying on stubs, agents, or symlinks, and without the need for dedicated cache or proprietary hooks. StrongLink can copy & move files with any-to-any storage policies, eliminating the need to rehydrate back through the same path. File naming and directory hierarchies are maintained regardless of storage, including all metadata – even to tape and the cloud.
The Foundation of Autonomous Data Management
StrongLink creates a unified view and control across all storage types (local, network, tape, & cloud) to simplify data management and collaboration across any environment. Only StrongLink can Manage Storage Both IN & OUT of the Data Path, and as a hybrid of both.
A Scalable & Self-Healing Architecture
StrongLink's modular scale out architecture delivers a highly available, no-single-point-of-failure architecture. It can start small, scale to manage extreme IO and data volumes, and may be deployed across multiple sites for business continuity and disaster recovery.
Scale-out on demand
Other vendors license based on capacity, but not StrongLink
Deploy on your hardware or VMs
This new system will enable DKRZ to expand and modernize essential data services to our research community, while also seamlessly transitioning to a new open-standard platform that can grow as we do. This will provide a solid foundation to ensure researchers have on-going access to the critical data needed for climate modelling and improved climate projections.
StrongLink was designed to provide customers like DKRZ with a vendor-neutral platform that could seamlessly automate data management and high speed data movement across otherwise incompatible storage types at any scale.
To learn more about how we can help you, please contact us