Enterprise Grade Archiving
QStar Technologies was founded in 1987, in Bethesda, Maryland (USA). From the outset the firm has focused exclusively on developing products and solutions to manage, store and archive enterprise level data.
QStar software solutions are totally independent of the underlying hardware and run on commodity servers with Intel x86 processors, delivering massive cost savings and flexibility compared with traditional storage systems. With QStar's solutions clients can accelerate transformation of their storage and cloud infrastructure and resolve a range of IT and business challenges, such as multi-cloud data management, data protection, storage optimization, and data archiving in compliance with the most stringent international standards on sensitive data.
QStar Archive Storage Manager (ASM)
With ASM, Disk Storage, RAID, Tape Libraries (LTFS), Object Storage, Cloud Storage (Public, Private or Hybrid), WORM storage and Optical Libraries are managed transparently across QStar Active Archive like a single point mounting file system or Windows folder.
Users see ordinary file shares and can easily search, find and retrieve data directly from the Active Archive.
Private and Hybrid Cloud
With Archive Storage Manager (ASM) all data stored within Tape Libraries, Object Storage, Cloud Storage (public, private or hybrid) or Optical Libraries is accessed via standard protocols like HTTP or S3 APIs from on–premise IT infrastructures, users and applications, and Cloud Storage resources transparently accessed in native mode through NFS and SMB (users see ordinary file shares).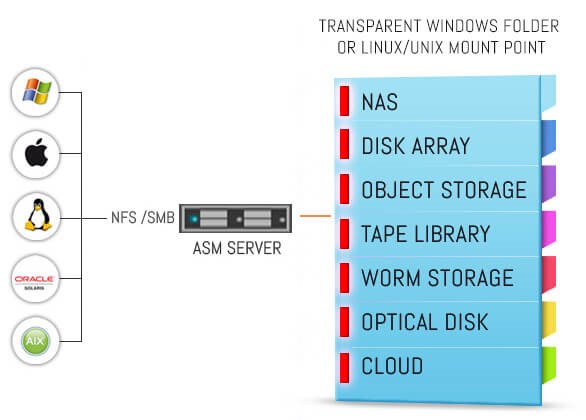 QStar Storage Reporter lets you perform detailed analysis of data composition in the existing storage infrastructure, provides key statistics on existing storage infrastructures without interrupting business operations.
QStar Network Migrator (QNM) is a policy-based tiered storage and data lifecycle manager.
On behalf of a leading financial institution, NAS & QStar created a long-term immutable archive based upon optical technology to store long term financial transactions.
NAS & QStar worked with a large international pharmaceutical to create a secure on-premise 500TB file and object archive to replace optical drive technlogy 
To learn more about how we can help you, please contact us